Aqualux 12V-24V MultiVoltage AC/DC 6W LED MR16 GX5.3 Bulb Warm White 3000K 60deg
Aqualux AGL-550-30X60
24V LED MR16 Bulb. Perfect for longer cable runs, for general landscape lighting. A 24V transformer will allow a 200m run or more in 3.3mm cable even if the voltage has dropped to 12V at the end of the run.
The colour is similar to but output is much brighter than a 35W halogen bulb - Consumes only 6W.

Perfect for general garden landscape where a bright garden light is required giving a 60 degree broader spread of light for a tall broad tree crown or house lighting on iron core magnetic transformers. Not suitable for halogen bulb electronic transformers.
WARM WHITE (3000K).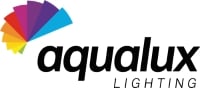 MultiVoltage 12V - 24V AC or DC capable
The latest technology in garden lighting
Aqualux AGL-550-30X60 (Designed for garden lighting broader spread applications)
This MultiVoltage 12V - 24V 6W MR16 LED drop-in bulb will give a warm white colour to your landscape. The output and colour is similar a 35W halogen bulb.
Very long cable runs of hundreds of metres
on a 24V AC Power supply transformer using thin 3.3 sq mm cable
They are usable indoors or outdoors in any downlight or light fitting that uses the normal halogen MR16 dichroic bulb which is powered by a 12V or 24V magnetic iron core transformer. For garden lighting applications our 24V transformers are preferred for optimum performance.
Like most LED lamps, they are not suitable for electronic transformers.
These non-dimmable Warm White MR16 LED's will give a good spread of light without lighting up the surrounding area. They are perfect for bright broader 60 degree spread of uplighting into wider tall trees, garden features and wall washing with warm natural colour light.
See our Full range of MR16 multiVoltage 24V - 12V LED bulbs including colours, warm white, cool white from 3.5W - 4W - 6W and with 10 - 38deg beam angles.
Features:
Being able to be run on 24V they are perfect for long runs, reducing cable size & on-going maintenance. (e.g. on a 200m run of 3.3mm2 cable if the 24V is reduced to 12V at the end, the lamp will still peform normally)
Can be run on a 12V or 24V system with AC or DC power supply. For long runs a 24VAC iron core transformer must be used
6 Watt (which means lots of lights per transformer)
Nichia LED technology
MR16 GX5.3 pins
Efficiency : 92 lms / Watt (hot)
Approx 550 Lumen output (nominal). Will give a brighter light than 35W halogen.
Lumens intensity: 780cd
Colour Temperature: 3000K (similar to halogen)
Colour Rendering Index (CRI): 83(Ra)

60° beam angle

Lifetime L70: 25,000 hours, degrading over an extended period of time, but reduced by enclosed heat & out-of-range Voltage
Useable with 12VAC or preferably 24VAC iron core transformer or 12VDC or 24VDC (battery or driver) power supplies only
Very cool running
Non-dimmable
Polycarbonate construction for better outdoor durability
IP44 Rated - perfect for garden lights in protected fittings in the weather
Bulb Dimensions: 50mm diameter x 40mm bulb length (not including the two metal pins)

Weight:

0.055 kg
Country of Manufacture: Designed in Sydney, Australia & Made in China